Eric and Roxy held a Penn State Inspired Wedding and Reception at the The Days Inn in State College Pennsylvania.  I provided whole room up lighting and designed a custom monogram for their celebration.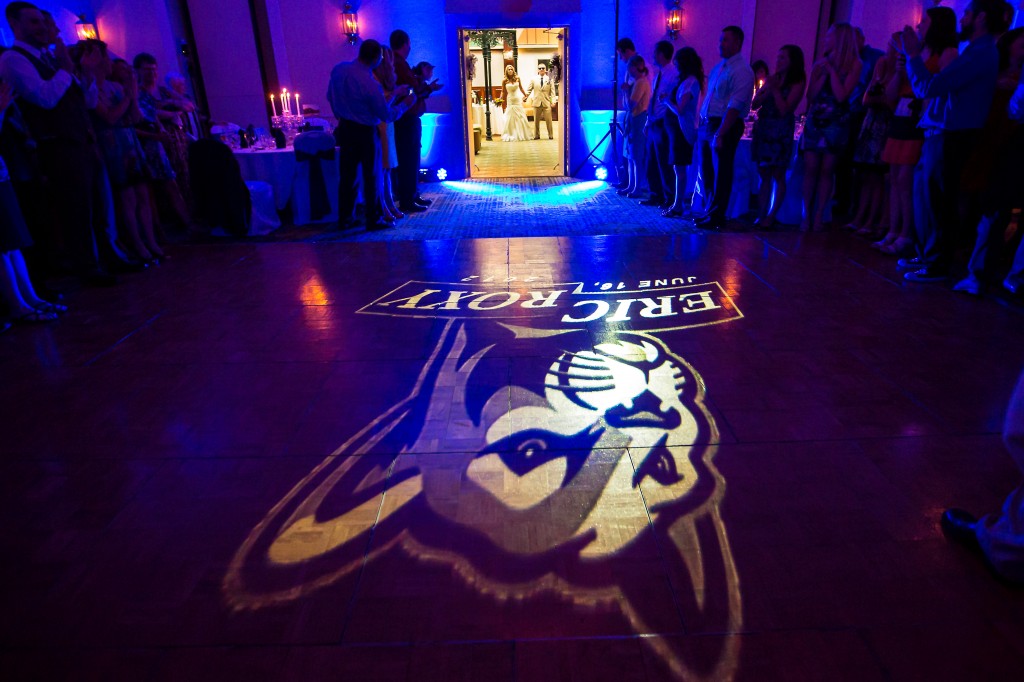 Check out Eric and Roxy's Video Blog:
Here is Eric and Roxy's Wedding Wire Review:
Perfect is the word I use to describe my wedding day thanks to Jamie Simpson. Having come highly recommended our expectations were nothing short of perfection. To say the least that is exactly what we received from Jamie's services. He exceeded our expectations in every way. From the start he was a pleasure to work with. He is enthusiastic, personable, and truly a passionate entertainer.

After only the first meeting I felt that I trusted in Jamie to deliver the very vision that I had dreamed of  for our big day. To trust a vendor is nothing short of everything for an overwhelmed bride. It was obvious to me that this was one are of my wedding that I didn't have to dwell on. Jamie's experience paired with his desire to entertain was easily observable in every encounter.

Jamie created for us the most beautiful monogram that was showcased on the dance floor during our first dance. The up lighting, customized monogram, props, and music selection created the Perfect atmosphere for our celebration. Four months later and guest are still talking about our wedding, in particular the "Amazing DJ"! I had the not only the perfect wedding, but the perfect DJ; evidence by the gorgeous lighting at my reception, the packed dance floor throughout the entire night, the laughing and smiling guest, and a very blissful couple on their wedding day.
My friend Lisa Rhinehart captured these amazing shots:
Jamie Simpson – Houserockers DJ